I love getting the mail. You never know what sorts of goodies might be there!
Today in the mail I received a $5 Amazon gift certificate earned from collecting
Swagbucks
and an I Can Do It! reward chart.
The reward chart was a blog win from a
MommyPR
giveaway sponsored by
Kenson Parenting Solutions
. It was so much nicer than I expected! Some of them I have seen in stores are quite small. This one is quite large and durable. I love that the chore pieces and stars are sturdy plastic and have velcro on the back to fasten them to the chart. I can tell that this will hold up for quite a long time.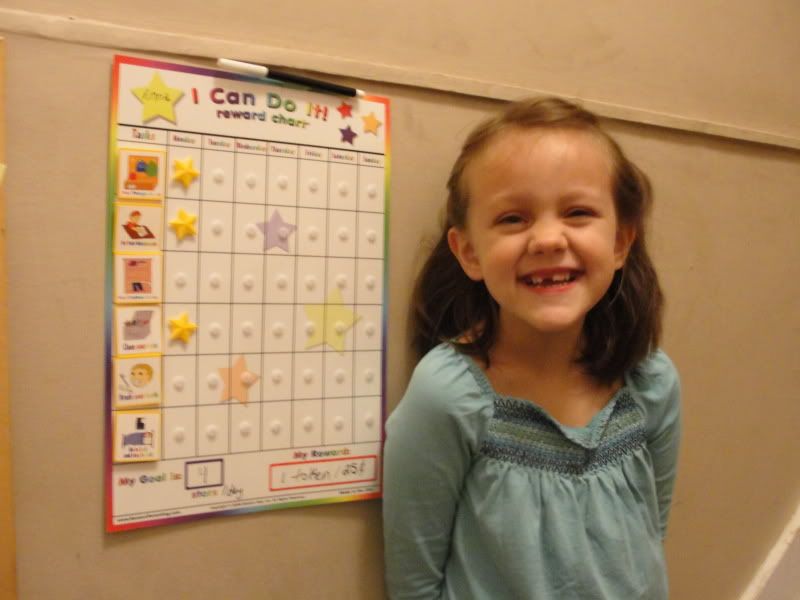 I decided to use this chart with my 7 year old daughter. She is in dire need of developing some organizational skills. We recently went to her parent-teacher conference and the only negative the teacher brought up was that she has never in all her 30+ years of teaching seen such a messy desk! This disorganization carries over to home. A. gets home from school and throws her shoes, coat, and bookbag wherever they happen to land. This is despite having designated spots for them. Mornings are frequently chaotic - searching for missing shoes or homework. So this chore chart could not have come at a better time.
The chart itself is brightly colored with plenty of room. It came with a dry erase pen so we could customize it. I was extremely pleased with the variety of chores/behaviors included to use with the reward chart. The best part is that when A. has mastered one thing and it has become habit, we can replace it on the chart with something else that needs some improvement. For starters, we chose to focus on

Putting her things away in the right place after school
Brushing her teeth before bed
Doing her homework after school.
Putting her dirty clothes in the hamper
Cleaning up her toys at the end of the day
Staying in bed when it is time to go to sleep
The variety of chore/behavior pieces that were included in my prize was amazing. They truly thought of everything. Although the basic chart comes with 20 different chores and behaviors, you can purchase additional packs. You can also purchase blank pieces to write in your own. I received all of their supplemental packs in addition to the chart. These included school, chores, behavior/family, Christian, and the blank pieces packs. I loved that the Christian pack included activities like memorizing Bible verses and saying their prayers.
My only small suggestion is that I wished they would offer a choice of either the magnet backing or adhesive so it could be placed wherever you choose. It comes with magnets on the back. Although most people probably put it on the fridge, I wanted to stick mine to the wall on our landing so A. would see it when she first got home from school. I rummaged my craft closet and found some adhesive magnets to stick to the wall and made it work. So no big deal. It might have been nice to have the choice though.
A. is already excited about using her chart. We have decided that we will give her a quarter for her piggy bank for each day she gets 4 or more stars. I am looking forward to seeing an improvement in A's behavior and organizational skills.
To purchase your own chart or for more information, visit
Kenson Parenting Solutions
. They also have other charts such as Honey Do Lists, and Potty training charts. Might I suggest a chart for meal planning? I would love to have pieces that listed frequently used meals that I could rearrange on a weekly calendar. (The pieces would have to be blank so you could write in your meal choices.) Just a thought.
Disclosure: I received this product as a result of a blog giveaway on another site. I was not compensated in any way for my review.