I love getting the mail. You never know what goodies might be waiting!
I had a rough morning. I ruptured a disk back in July following a nasty fall. Since then I have been unable to sit without excruciating pain running down my leg. Today I had the first of three spinal nerve blocks to try to eliminate the pain. Not a fun procedure to endure! So it lifted my spirit a bit to come home and discover 2 blog wins waiting in my mailbox.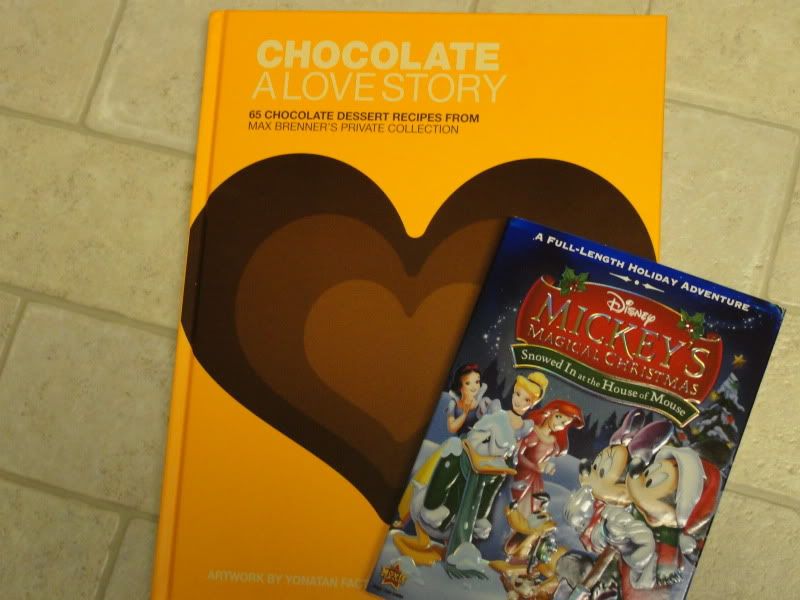 I won "Chocolate - A Love Story" from
Maria's Space
. It has 65 decadent chocolate dessert stories including "Bad Boy Chocolate Pizza". Doesn't that sound like something you would just have to try? Chocolate and pizza on their own are two of my favorite foods. Combine them into one recipe and how can you go wrong? I am trying to decide if I want to give this to my sister-in-law for Christmas or keep it for myself. I am sorely tempted to keep it for myself. Does that make me a bad dietitian?

These blogs are currently giving away "Chocolate - A Love Story":

Don't want to wait to win? Get yours today.
Chocolate: A Love Story: 65 Chocolate Dessert Recipes from Max Brenner's Private Collection
I won "Mickey's Magical Christmas: Snowed in at the House of Mouse" from Playsational. I have to admit, I already have this one for the kids on VHS. However, we are slowly trying to replace all our tapes with dvds so I didn't feel too guilty about winning this one. The kids have a nasty habit of placing VHS tapes on our speakers, which the tapes do not like at all!

Mickey's Magical Christmas is definitely one of our family's favorite Christmas specials. The kids love seeing all their favorite Disney characters in one movie. I love that Disney brought back the original voices. (It just wouldn't have been the same without Jodi Benson as Ariel, Pat Carroll as Ursula, or Paige O' Hara as Belle.) I also love that it includes "Mickey's Christmas Carol" which I fondly remember watching on tv with my family when I was a little girl. Don't you just love that a lot of Christmas specials from the 70's and 80's are available to share with our own children?



This blog is currently giving away "Mickey's Magical Christmas":


Don't want to wait to win? Get yours today.
Mickey's Magical Christmas - Snowed in at the House of Mouse