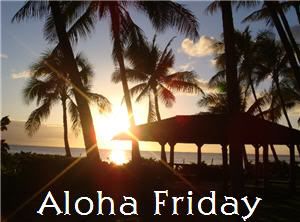 It's almost the weekend!!! I am going to take a minute for a little bit of fun.
It's Aloha Friday at
An Island Life
! Take a break from posting and answer a simple question by leaving a comment. Then be sure to check out all the other bloggers participating. It's a great way to get to know each other.
My Question this week:
Have you started anything for your garden yet?
My answer:
About a billion broccoli and cauliflower plants inside under lights, also tomatoes, eggplants, and peppers. Outside in the mini greenhouse is more cold-weather plants. This weekend I am planting peas, onions, and potatoes. I saw that some of our rhubarb is popping up too. Raised beds definitely make a difference in getting the soil warmed in the spring.