Entering sweepstakes and blog giveaways can be time-consuming. If you only have time to enter a few each day, your chances of winning are a lot less than someone who enters a hundred a day. Fortunately I have come across some
free sweepstakes software
that can help you out! This will be the first in a series of three posts on the free software I use to be able to enter hundreds of giveaways in an hour. So let's start with form-filling software.
Form fillers can be a huge time-saver when using the internet, but did you know they are especially helpful for entering sweepstakes and blog giveaways? Many current browsers have built-in form fillers, but they can only do so much.
There is a program I have been using for around 5 years now, that I absolutely love. It is called Roboform.
Roboform
goes beyond basic form-filling and allows you to save "passcards". These passcards can save a whole web page of information. With the built-in form fillers, you are pretty much limited.
Let me demonstrate how
Roboform
can speed up the time it takes to enter blog giveaways. Wordpress and similar blogs can be extremely time consuming because you have to type in your name, email address, and website for each comment you leave. Below is a form similar to what you might see on a blog giveaway with my information already there.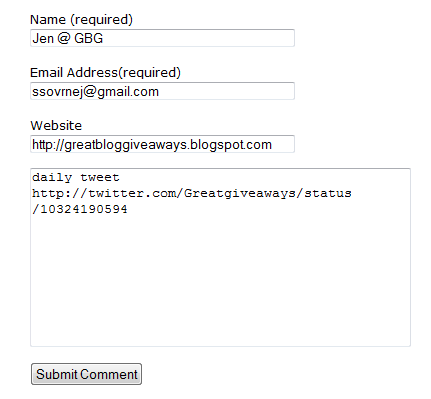 Now let's suppose that this particular giveaway allows daily tweets. So each day, you will be typing in that same information. The only thing that will change is the
tweet link
. Roboform can be a huge help in cases like this.
You just need to type your information once. Before you hit submit, go up to the Roboform toolbar and click on save.

Give the passcard a name that corresponds to the blog so you will remember what it is. Then hit save. That's all there is to it.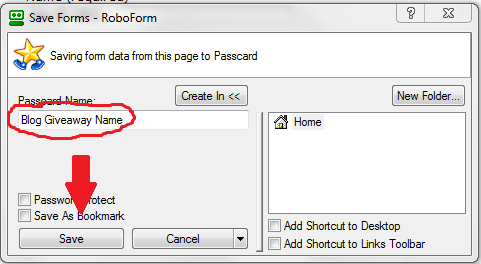 (You will have to forgive the shaky circle up there in the image! Evidently I draw with a mouse as poorly as I draw with a pencil!) Anyway, so the next day when you tweet and go to get your entry, just have Roboform fill out the information for you. Then all you have to do is copy and paste the new
tweet link
into your comment and hit submit. Much quicker, right?
Roboform also works great for longer forms like you might find in
sweepstakes
or blog giveaways that use Google Docs for their submissions.
Mommies with Cents
and
The Review Broads
are two blogs with giveaways that I can think of off the top of my head that use Google Docs for their giveaways and allow daily entry. With Roboform, forms that took a minute or two to type can now be completed and submitted within seconds! This handy piece of free software will definitely allow you to enter more sweepstakes in the same amount of time, thus increasing your chances of winning.
Roboform
is free to download and use. Give it a try. Your fingers will thank you for saving them all that typing!