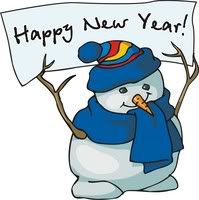 Can you believe that it is almost 2011? It's hard to believe that this blog started out a year ago as a way of keeping me from going crazy when I was recovering from a ruptured disk. I had no idea that I would still be at it a year later or that it would have grown so much! (Or that I would be considering turning blogging into a full-time gig!)
I just thought I would share some plans I have for this blog for 2011, in no particular order.
I am going to be starting a series called "Free Christmas Fridays." Many of us blog giveaway enthusiasts enter blog giveaways to help win Christmas gifts each year. In fact Christmas for our family the past 2 years has either won or been funded by my activities online (swagbucks, surveys, etc). We paid nothing out of pocket! As part of this series, I am going to be sharing tips on winning blog giveaways, as well as information on free programs that can help you earn money to set back for next Christmas.
I have started the Blog Giveaway Directory and will begin to promote that heavily in the next couple of months. I hope both giveaway hosts and entrants alike will find it useful as the site grows. I have learned a great deal from running Great Blog Giveaways, but it is not set up ideally. Blog Giveaway Directory is much more user-friendly. When you submit a giveaway over there, it posts directly as a draft. So all I have to do is go through and publish them. Time-saving for me and every giveaway will have a dedicated post. Giveaways are sorted by end date and category and there is now a search function. Expired giveaways are moved to a different category. I just feel it is a much better format. Starting in January, I will be running giveaways frequently over there to encourage the sharing of blog giveaways. You will get an entry for each unique blog giveaway you submit.
I am going to keep with the daily linky lists with direct links to the blogs that have giveaway linkys up each day. I have gotten some good feedback on it. In addition, I hope it will be useful to my customers as well so they can track each day where I am submitting their giveaways.
I am going to be starting keeping track of the weekly memes and carnivals that you can participate in to help promote your blog. There are a lot of them out there. I have found that the smaller ones send even more traffic than some of the huge widely known ones. At any rate, I think it will be helpful to have all the information in one place.
I am considering starting a new linky to advertise your very low entry giveaways. It will probably be a permanent one with expired giveaways deleted weekly. I am toying around with the requirements of under 100 entries with less than 2 days to go.
I have 2 ebooks in the works. One will focus on tips to help you win blog giveaways more often. The other will be tips and tricks for running a successful blog giveaway. I see so many giveaways that could have done better if they had just added a few things to their post.
I am going to continue doing advertising orders in the new year. I was getting quite burnt out a couple of months ago, but since I have changed the packages, it is much more manageable.
In a completely different track, I have also started 400 Calorie Dinners. Many of you know I am a registered dietitian in the real world. I started 400 Calorie Dinners in the hopes that it will be a useful tool for people on a weight loss journey to help them with portion control. It will also have lots of nutrition information and kitchen tutorials mixed in with the recipes. If that is something that interests you, I hope you will check it out.
Whew! 2011 is going to be a busy year.