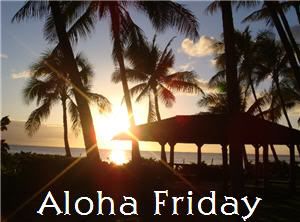 It's Aloha Friday at
An Island Life
! Take a break from posting and answer a simple question by leaving a comment. Then be sure to check out all the other bloggers participating. It's a great way to get to know each other.
Can you believe it's the last day of 2010? I haven't participated in Aloha Friday in quite some time, but I thought it would be fun to do it this week.
My Question this week:
There were a lot of great blog giveaways running lately as part of holiday gift guides. Have you won anything lately? Here's your chance to brag a bit!
My answer:
I just found out yesterday I won a Tassimo from Mammamoiselle. It is going to make a great gift for my husband's birthday. He loves his coffee!